Meet the Staff
Nancy Ullrey
Executive Director
Nancy is a 37-year Woodland resident who joined the Cache Creek Conservancy in June 2015.
Prior to joining the Conservancy, Nancy spent 30 years working in statewide water and ecosystem restoration policy and program development with the Department of Water Resources, Ecosystem Restoration Program of CALFED Bay-Delta Agency, and the Sacramento-San Joaquin Delta Conservancy.
She has a B.A. in Journalism and an MPS in small group dynamics. Nancy has volunteered with other community groups, has served on the Yolo County Grand Jury, and currently is serving a term on the Yolo County Parks, Recreation, and Wildlife Advisory Committee.
Sheila Pratt
Executive Assistant
Sheila joined the Cache Creek Conservancy in 2018. She comes to us from the Yolo County Resource Conservation District where she was the Administrative Assistant, providing critical support to all areas of District's functions and operations.
Sheila works with the Executive Director to coordinate events and workshops and to provide support for all activities with the Board of Directors; prepares and distributes board materials.
She also supports the financial manager in numerous clerical and accounting tasks, personnel and operations needs.
You will often hear Sheila say "The Conservancy is my 'Happy Place'!"
Susan McCloud
Financial Manager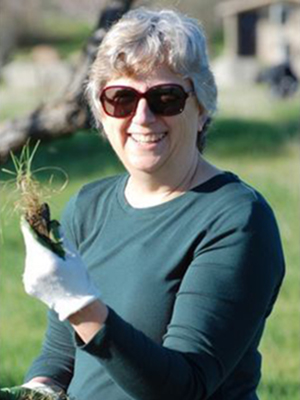 Sue has more than 30 years of accounting management experience, having worked for the County of Yolo and the Yolo County Resource Conservation District before joining the Cache Creek Conservancy in 2017.
Sue is responsible for preparation, maintenance, verification and reconciliation of accounting and financial records, the audit of financial transactions, and the production of fiscal reports.
She analyzes, develops and implements accounting and financial procedures and systems as well as assists with operational management of the Conservancy. She also works with staff in developing project budgets and cost allocation information.
Lynne Haralson
Habitat Restoration Technician
Lynne joined the Conservancy in 2021 after having recently returned to the area from Portland, OR. She has a life-long passion for nature.
She brings with her an extensive, natural facilities background working at the Lan Su Chinese Garden in Portland. At the Garden, she maintained garden structures with historic and cultural accuracy. She scheduled projects for both garden staff and outside contractors and created and maintained
operational and capital budgets and reports.
Besides being a skilled and experienced carpenter, large equipment operator and project manager, Lynne has experience handling wildlife according to Department of Fish and Game.
Currently, she is studying to be certified as an Environmental Conservation Technician at the American River College in Sacramento.
Lynne enjoys artistic woodworking and has an active account on Etsy.
She is also the person who shares up-to-the minute wildlife sitings and activities on the Conservancy's Facebook and Instagram accounts.
Chris Carter
Nature Preserve Groundskeeper
Chris is working part-time to assist the Habitat Restoration Specialist with ​​gardening and general grounds maintenance work including trail maintenance throughout the Nature Preserve. He is also helping with repairs to the buildings and infrastructure.
Chris has a Bachelor's degree in Anthrozoology from Beacon College in Leesburg, FL, along with several certifications in communications, leadership and life sciences. He spent time at the Yolo Basin Foundation as a guide on the Bat Walk and Talk program. During the Covid pandemic, he moderated a Zoom educational bat program.
Chris aspires to teach people how to be good global citizens and to advance positive human and non-human relationships.
Jolene Jindrich
TGG Specialist
With a Bachelor's degree in Microbiology from Humboldt State University, Jolene joins us to help care for the Tending & Gathering Garden (TGG). She studied genetics, plant physiology and cell biology and has spent time volunteering in biology and chemistry labs.
She works with the Habitat Restoration Manager and the TGG Steering Committee to tend desirable native species, manage non-natives, maintain the trails and generally improve both the visual aesthetics and habitat value. She also manages and administers grants, coordinates work days and cultural awareness events.
Felicia Wang
Restoration Biologist
Felicia joined the Cache Creek Conservancy in November 2022 after completing her undergraduate studies at UC Davis. She holds a Bachelor of Arts degree in Evolution, Ecology, & Biodiversity and Psychology.
Felicia's role in the Conservancy is to conduct wildlife monitoring, such as bird nest box monitoring, bird surveys, and wildlife camera traps. She helps coordinate the ecological and environmental internship program, as well as plan public outreach activities like bird walks.
She has past experience conducting zoo research, bird nest box monitoring, animal husbandry, public education, and assisting with research in the humanities.
Besides her ecology-loving side, she is also fascinated by human learning and the power of collective action. She is excited to be able to share her knowledge and appreciation for nature with others, as well as to learn something new herself.
In her free time, Felicia also enjoys watercolor painting, reading, sewing, and skateboarding.
Former Staff Members
Ameen Lotfi
Habitat Restoration Technician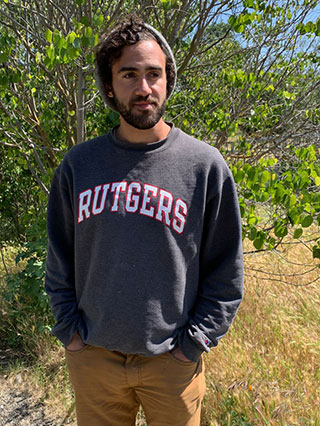 Ameen joined the Conservancy in 2021 and holds B.S. degrees in both Agriculture and Food Systems and Ecology and Evolution and Natural Resources from Rutgers University.
His passion for an ecologically restorative food system led him through a variety of formative experiences before moving to California last summer. While in school Ameen worked in restorative agriculture and nursery production; participated in soil and plant microbiome research; and taught an accredited plant science class for first-year university students.
Since relocating to California, he has been ever more passionate about the intersection between food sovereignty and restoration ecology, and particularly how these topics relate to Traditional Ecological Knowledge. He was enamored of the Tending and Gathering Garden and was thrilled to join Cache Creek Conservancy as a restoration technician in July 2021.
As the need for ecological restoration intensifies each year, Ameen dreams of using his stewardship and research skills to support a thriving Cache Creek watershed. He enjoys supporting the people, plants, and wildlife that call this watershed home.
Harnawaz Boparai
Project Specialist
Davis biologist and resident Harnawaz Boparai joined the Cache Creek Conservancy in January 2022 as a project specialist. He completed his bachelor of science degree in Wildlife, Fish and Conservation Biology at UC Davis in 2019.
"My dream job would be to be a paleontologist or avian paleontologist (someone who studies extinct birds) and/or feathered dinosaurs using modern avian science."
Boparai was an intern at the Cache Creek Nature Preserve in 2020, where he monitored nest boxes for songbirds, wood ducks and barn owls among numerous other assignments. He has also worked as a crew member for the Bighorn Basin Paleontological Institute, was a bat survey and morning dove banding volunteer for the state Department of Fish and Wildlife; and was a docent for the UC Davis Stebbins Cold Canyon Reserve among many other volunteer activities at UC Davis.
Boparai also enjoys rowing, running, hiking, birding, going to the movies, playing music on his guitar as well as singing and reading comic books. He is fluent in English and Punjabi as well as conversational Spanish.