Donate to the Cache Creek Conservancy
You can donate many different ways.
Donate By Writing a Check or Money Order
You can make your donation the classic way, too! Please make checks or money orders out to Cache Creek Conservancy. Please include a legible return address and we will send your donation receipt via mail.
Mailing Address:
Cache Creek Conservancy
P.O. Box 8249
Woodland, CA 95776
Donate Using Our Secure Donation Boxes at the Preserve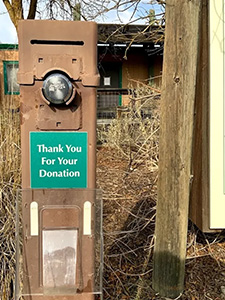 The next time you visit the Cache Creek Nature Preserve, look around and you'll see secure donation boxes. The tall metal boxes are safe, rain-proof, wind-proof, and are checked by staff regularly. You can donate cash, coins, or checks by placing them through the slot near the top of these boxes.
You can donate anonymously or you can place your donation in an envelope with your contact information and we will send you a donation receipt.
There's a special box at the end of the stairs that leads to the Tending & Gathering Garden (TGG). Any donations you put in that box will go specifically to the TGG program.
Donate with Everyday Purchases
If you shop at Nugget Markets or Food 4 Less, you can pick up a Scrip card in our office and register. After registering the card online, present the card to the cashier each time you shop. Both are easy ways to give to the Conservancy at no additional cost to you.
Donate Your Time
When you volunteer with the Cache Creek Conservancy you can share in the benefits of volunteering: reduced stress, find friends, help the community, and learn new skills. Read more on our Volunteer page or submit a Volunteer Interest Form using the button below!
Big Day of Giving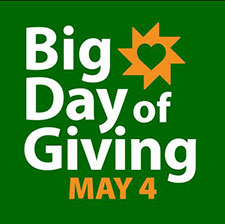 You helped to make the 2023 Big Day of Giving a success! Thank you!
BDOG is a 24-hour giving challenge that brings our community together to support the nonprofits that serve the Sacramento region.
It happens in May so be on the lookout for next year's event.