Capay Open Space Park
15603 County Road 85
Esparto, CA
Just north of the town of Capay, the Capay Open Space Park (COSP) offers walking trails, picnic benches, and an access ramp to Cache Creek. Explore over 40 acres of enhanced and restored grassland and riparian habitat. Dogs on leash are welcome.
The land that is now Capay Open Space Park was donated to the County of Yolo in 2004 by Granite Construction Company. The Cache Creek Conservancy and Yolo County Resource Conservation district partnered in a restoration of native habitats funded by the California Natural Resource Agency. The Gravel Mine to Parkway Project was completed in 2020. Capay Open Space Park has more than two miles of walking trails, a paved parking lot, shade structures, picnic tables, restrooms, an access ramp to the creek, along with plenty of benches! A park host lives on site.
Restorative Planting
Yolo County Resource Conservation District and Cache Creek Conservancy partnered in enhancing the park by planting native trees, shrubs, grasses, and wildflowers, creating habitat for native birds, mammals, and pollinators.
Environmental Education
Esparto High School students led a native bird identification activity for park visitors. One of many educational events held at COSP courtesy of the Gravel Mine to Parkway Project!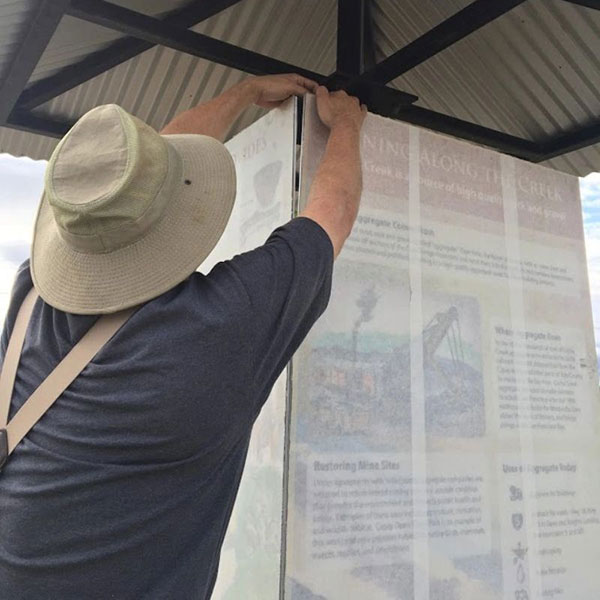 Interpretive Panels!
The interpretative signs are part of the Gravel Mine to Parkway project to enhance the visitor experience of Capay Open Space Park. The signs, located at the entrance kiosk, are an informative reference to the geological and social history, mining, and restoration of the Cache Creek ecosystem.
SLEWS Planting Day
January 29, 2020
The Student and Landowner Education and Watershed Stewardship (SLEWS) program engages high school students in habitat restoration through a series of hands-on field days at real projects that develop science skills and environmental stewardship in youth.
This group of high school students demonstrated excellent stewardship and planting skills at Capay Open Space Park: scrape, dibble, plant, and cover. Students also had the opportunity to interview mentors, including Cache Creek Conservancy's Outreach and Education Coordinator, Mikayla Peterson, about education and career paths.
Check out more about the day and other SLEWS events on the SLEWS Blog.
SLEWS Wildlife Habitat Enhancement Day
SLEWS is at it again!
Woodland High School students visited Capay Open Space Park (COSP) for a day of restoration work, learning about and installing wildlife habitat enhancements. Students, mentors, and experts gathered for an introduction to building nest boxes for native birds. Tanya Meyer from Yolo County RCD and Corey Shake from Point Blue Conservation Science explained critical elements of nest box design—side holes for ventilation, bottom holes for drainage, properly sized entrance/exit hole, and a predator guard. Micheal Perrone from Yolo Audubon added, "Tens of thousands of fledglings have left these local boxes over the past 15 years, providing nesting habitat for Tree Swallows who otherwise do not have habitat here."
"A nest box is an opportunity to build populations back that have declined. Habitat, such as older trees with deserted woodpecker holes, has decreased due to human activity. Western Bluebirds or various species of native flycatchers can fit into a smaller hole as opposed to invasive species like the European Starling."

Corey Shake, Point Blue Conservation Science
The high schoolers worked together to assemble the boxes and then the group walked the park installing nest boxes and searching for birds. Birdwatching is fun as well as informative. Monitoring the animals and plants (bio-monitoring) of COSP can help us determine its environmental health since these living things are constantly exposed to the conditions there.
After searching the skies, students investigated the waters of Cache Creek.
CCC's Outreach and Education Assistant, Elise Stinnett, continued the day's topic by introducing common, benthic macro-invertebrate species found in Cache Creek. Students collected samples and identified tolerant and sensitive species living in the water at COSP. Based on the large population size of tolerant species (those which can withstand pollution), the students hypothesized that Cache Creek is slightly unhealthy.
Students finished the day with an end-of-the-course celebration and wrote "Thank You's" to the people who made their SLEWS program possible – mentors, SLEWS Coordinator Eva Dwyer, guest experts, and their teacher, Mr. Delsol.
Thank you to Woodland High School for your productive and professional work. You made a positive impact at Capay Open Space Park!
SLEWS Blog – A Day of Birds, Boxes, and Bugs
March 4, 2020